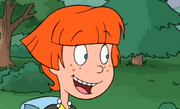 Mimi Mortin (voiced by Chiara Zanni) - A cute and lovely red-haired 11-year old girl in the sixth grade. She's clever, optimistic, and has a powerful imagination with a beautiful singing voice. She's always willing to help and solve any problem that she may encounter, most of the times with creative plans and ideas.
Although her plans may not always work out the way she expects them, Mimi receives a lot of help from her best friends Elaine and Russell, her family, and even her rivals, and finds a way to solve any problem.
Ad blocker interference detected!
Wikia is a free-to-use site that makes money from advertising. We have a modified experience for viewers using ad blockers

Wikia is not accessible if you've made further modifications. Remove the custom ad blocker rule(s) and the page will load as expected.